This memorial website was created in the memory of our Mom, Wife, Grandmother, Great-Grandmother, Sister, Sister-in-law, Aunt, Godmother and Friend~ Ruth Farias Hobbs who was born in Fall River, Massachusetts on April 13, 1947 and passed away on August 30, 2005 at the young age of 58. She was the daughter of the late Angela Farias and Manuel Alves Farias, she is survived by 3 brothers Robert, Paul and Donald Farias, one sister Joanne Schmidt, and was the sister of the late Edward Farias, and Nancy Devoll-Archambault. She was the beloved wife of Michael G. Hobbs and beloved mother of Donna, Heidi, John, George, Kim and Michael. Mother -in law of Jr, David, Trish and Andy. Grandmother of Heather, Nastasha, Kayla, Albert, Kyle, Shayna, Whaverley, Tyler and Great-Grandmother of De'Jean and Nevaeh Ruth, Steven Edward Jr. & Jaylah & Leah & Ronnie Jr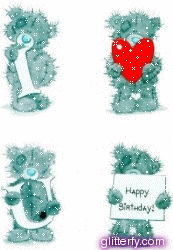 Mothers

For those who are lucky to still be blessed with your Mom,
this is beautiful.
For those who aren't this is even more beautiful.
The young mother set her foot on the path of life.
"Is this the long way?" she asked.
And the guide said "Yes, and this way is hard.
You will be older before you reach the end of it.
But the end will be better than the beginning."
But the young mother was happy,
and she would not believe that anything
could be better than these years.
So she played with her children,
she fed them and bathed them,
and taught them how to tie their shoes,
ride a bike and reminded them to feed the dog,
and do their homework and brush their teeth.
The sun shone on them, and the young Mother Cried
" Nothing will ever be lovelier than this."
Then the nights came, and the storms,
and the path was sometimes dark,
and the children shook with fear and cold
and the mother drew them close and
covered them with her arms,
and the children said,
"Mother, we are not afraid,
for you are near,
and no harm can come.
And the morning came, and there was a hill ahead,
and the children climbed and grew weary,
and the mother was weary.
But at all times she said to the children,
a little patience and we are there."
So the children climbed,
and as they climbed they learned to weather the storms.
And with this, she gave them strength to face the world.
Year after year, she showed them compassion,
understanding, hope,
but most of all…. Unconditional love.
And when they reached the top they said,
"Mother, we would not have done it with you."
The days went on, and the weeks and the months and the years,
and the mother grew old and she became little and bent.
But her children were tall and strong, and walked with courage.
And the mother, when she lay down at night,
looked up at the stars and said,
"This is a better day than the last, for my children
have learned so much
and are now passing these traits on to their children."
And when the way became rough for her, they lifted her,
and gave her their strength, just as she had given them hers.
One day they came to a hill, and beyond the hill,
they could see shining road and golden gates flung wide.
And the mother said: " I have reached the end of my journey.
And now know the end is better than the beginning,
for my children can walk with dignity and pride,
with their heads held high, and so their children after them.
"And the children said, " You will always walk with us, Mother,
even when you have gone through the gates.
" And they stood and watched her as she went on alone,
and the gates closed after her. And they said:
"We cannot see her, but she is with us still,
a Mother like ours is more than a memory
she is a living presence."
Our Mother is always with us,
she's the whisper of the leaves as we walk down the street,
she's the smell of certain foods we remember,
flowers we pick and perfume that she wore,
she's the cool hand on our brow when we're not feeling well,
she's our breath in the air on a cold winter's day.
She is the sound of the rain that lulls us to sleep,
the colors of a rainbow, she is Christmas morning.
She shows every emotion…. Happiness, sadness,
fear, jealousy, love, hate anger, helplessness,
excitement, joy, sorrow… and all the while,
hoping and praying you will only know the good feelings in life.
She's the place you came from, your first home,
and she's the map you follow with every step you take.
She's your first love, your first friend, even your first enemy,
but Nothing on earth can separate you.

Not Time, Not Space, Not even DEATH!............^i^

Please Do not take your Mom for granted,
visit her often or just call her and let her know how much you love her
and how much you will always love her!
and
If your mom is with Our Mom, she already knows! ^i^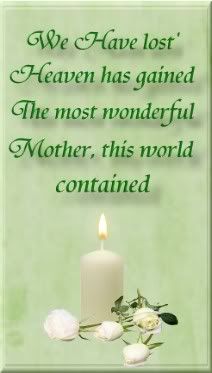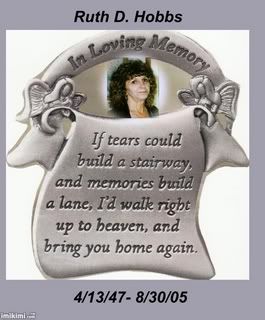 I was sitting here in heaven
and having a wonderful day.

I started thinking about you
and all the things
I didn't get to say.

I don't want you to worry about me
and please don't shed any tears.
Because I'll wait for you in heaven,
if it takes a hundred years.

Everything I had on earth, I have in heaven too!
my first day here my body became brand new. ;)

It is really pretty here and I love my new home,
although your heart is broken because my body's gone.

My love will always be there, as you go along the way,
just take a peek inside your heart there is where I'll stay.

Know that i loved my family and all my friends too,
my thoughts will be with each of you,
your whole life through.

xx00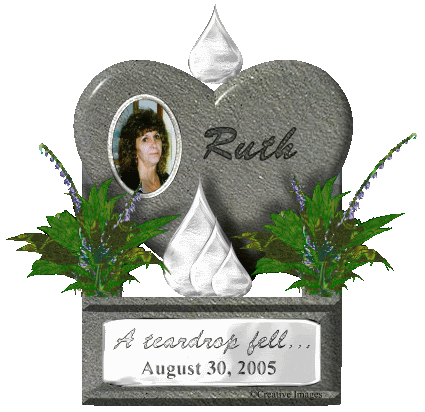 The picture below was taken on 8/13/06 at a local firework display. if you look closely you can see our moms face in the clouds looking at the fireworks, and also please note the fireworks are red and also heart shaped it was my mom and dads anniversary weekend. So was this a sign for my dad that my mom was with him on their anniversary, does this tell us that our loved ones are still here? YES YES, the picture was not altered in any way the only thing I did was outline the area that my moms face is located, if you look at the above picture you can see why we are so excited and wanted to share this with everyone that visits !! So YES we do believe in angels ^i^






Ok the below pictures was taken on October 26, 2006 by my lil brother Michaels girlfriend Karen, she noticed this silouette on my brothers shirt after he got dressed??????? Nobody could ever tell me you are not with us daily I LOVE YOU MOM!!!






HAVE YOU EVER SEEN AN ANGEL?
WHAT DOES AN ANGEL LOOK LIKE?
SCROLL BELOW!

v
v
v
v



Mom ~ your etched mirror that dad had made in memory of you!




A LETTER TO MY FAMILY
To my dearest family, some things id like to say,
first of all to let you know, i arrived here okay.
I'm writing this from heaven, here I dwell with God above,
Here there's no more tears of sadness,
here is just eternal love
Please do not be unhappy, just because I'm out of sight
Remember that I am with you morning, noon and night.
That day I had to leave you,
when my life on earth was through
God picked me up and hugged me, he said 'I welcome you'
'Its good to have you back again,
you were missed while you were gone
As for your dearest family, they'll be here later on'
'I need you here so badly, you are apart of my plan
there is so much we can do, to help our mortel man'
God gave me a list of things, that he wished for me to do
And foremost on the list, was to watch and care for you.
And when you lie in bed at night,
the days chores put to flight
God and I are close to you... in the middle of the night
When you think of my life on earth,
and all of those loving years
Because you are only human,
they are bound to bring you tears.
Do not be afraid to cry; it does relieve the pain
Remember there would be no flowers,
unless there was some rain.
I wish that I could tell you,all what God had planned
If I were to tell you, you wouldn't understand.
But one thing is for certain,
though my life on earth is through
More then ever before, I'm so much closer to you
There are rocky roads ahead of you and many hills to climb
But together we can do it, by taking one day at a time.
It was always my philosophy and I'd like it for you too
That as you give into the world, the world will give to you.
If you can help somebody, who is in sorrow and pain
Then you can say to God at night....
'My day was not in vain'
And now I am contented... that my life was worthwhile
Knowing as I passed along the way, I made somebody smile
So if you meet somebody who is sad and feeling low
Just lend a hand to pick them up, as on your way you go
When you're walking down the street
and you've got me on your mind
I'm walking in your footsteps, only half a step behind
And when its time for you to go.....
from that body to be free
Remember you are not going..... You're coming here to me.
Until we are together again
love and miss you all
MOM
XX00




TheCord

We are connected, my mother and I,
by an invisible cord not seen by the eye.
It's not like the cord that connects us at birth,
this cord can't be seen by any on earth.
This cord does its work right from the start,
it binds us together, attached by the heart.
I know that it's there, though no one can see
this invisible cord, from my mother to me.
The strength of this cord,
it's hard to describe,
it can't be destroyed, it can't be denied.
It's stronger than any cord man could create;
it withstands the test, can hold any weight.
And though you are gone and you're not here with me,
the cord is still there though no one can see.
It pulls at my heart, I am bruised, I am sore,
but this cord is my lifeline as never before.
I'm thankful that God connects us this way,
a Mother and Child.... Death can't take it away.
Author Unknown

From Donna, Heidi, John, George, Kimberly and Michael






I Am Always With You

When I am gone, release me, let me go.
I have so many things to see and do,
You mustn't tie yourself to me with too many tears,
But be thankful we had so many good years.
I gave you my love, and you can only guess
How much you've given me in happiness.
I thank you for the love that you have shown,
But now it is time I traveled on alone.
So grieve for me a while, if grieve you must
Then let your grief be comforted by trust
That it is only for a while that we must part,
So treasure the memories within your heart.
I won't be far away for life goes on.
And if you need me, call and I will come.
Though you can't see or touch me, I will be near
And if you listen with your heart, you'll hear
All my love around you soft and clear
And then, when you come this way alone,
I'll greet you with a smile and a "Welcome Home"








If you have a funny story or a memory of me,
please post it in the tributes for my family and friends to see!
If you never had the chance to ever say hello,
then please just light a candle and forever it will glow.


Click here to post a Tribute

Click here to light a candle